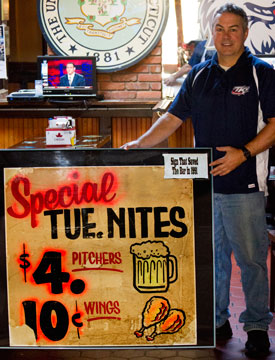 Tom "TK" Kennedy with the sign
that saved the bar in 1991
Our building - Danbury's oldest, continuously operating tavern.
Originally built as a car dealership in 1928, it was soon converted to a Tavern and has been a popular eating and social gathering place for over 90 years.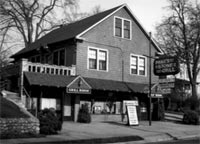 These walls have been home to some of the Hat City's most legendary and innovative restaurants. It was rumored to have been operated as a speakeasy during prohibition. After the repeal of the 18th amendment, the first liqour license in Danbury was granted to "Bennie Pane's Stone Grill" (1933-1937). "Pane's Restaurant" (1937-48) was the first in town to offer Pizza as its meal of choice. "Negri's Grill" (1948-59) and the "6&7 Restaurant" (1959-78) followed. "The Bushwacker" (1978-88) was the first Sports Bar in Danbury. After "A.W. Schucks" (1989-90), "TK's American Café" opened in 1990 and was the first to feature Buffalo Wings in a variety of flavors as its signature menu item.
In 1991, TK's was a struggling new business contemplating shutting its doors when we were the first to try a 10 cent wing night. With only a paper sign in the window to advertise, "Wing Night" became so popular that, a month later, there was a line to get in. The original sign credited with saving the bar is now framed and hanging in the bar room. Tuesday "Wing Night" is still going strong and we now serve over 15,000 wings a week.
The staff and I here at TK's would like to thank you for your patronage. Our mission is to keep the tradition of this building intact as being a friendly, comfortable gathering place to enjoy good food and good times with good people.